HOW TO FIND US
We are open at the times advertised on the events page. Visitors are welcome at other times by appointment, except Sunday. There is a café open from 08.00hrs to 17.00hrs Monday to Saturday at the back of the building in Lovibond Lane.
We are located close to Greenwich Station (National Rail and DLR).
There is a frequent train service from Cannon Street, advertised as "via Greenwich for DLR" (to Dartford, Gillingham etc) and Thameslink trains run from Bedford, Luton etc., via King's Cross and Blackfriars to Greenwich and beyond. There are also trains from Charring Cross. All of these trains serve London Bridge. The DLR runs from Bank Station, via Canary Wharf (Lewisham trains). Use Trainline to find routes and tickets.
On arriving at Greenwich use the exit at the DLR (west) end of the station and go out on the DLR (south) side of the station. On reaching the main road (Greenwich High Road) turn right, pass National Tyres and West Greenwich House is next on the right.
By road, enter SE10 8JA into your satnav, but be warned that parking is difficult and so it is best to come by train.
Buses 177, 180, 199 and 386 serve Greenwich Station.
Ask at Reception for directions to our office in the basement.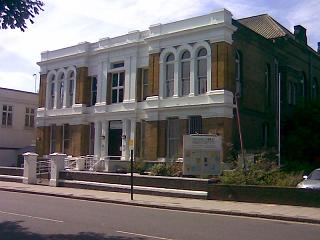 West Greenwich House, built 1876-7 to the design of W Wallen and modified in 1944 by the V1 flying bomb which cleared the site for National Tyres. It was the Greenwich Town Hall, from 1900 to 1939.    Photo © Dr Paul E Waters, 2011.