THE BRITISH OVERSEAS RAILWAYS HISTORICAL TRUST


A UK Registered Educational Charity
PROJECTS
See the separate page on our locomotive.
There are a number of specific projects within our general remit which the Trust supports and wishes to promote.
With the exception of the library proposal, which is mainstream to the Trust's activities, these are projects which we recommend should be (or are already being) undertaken by somebody, but not necessarily by the Trust.
They are:
---
THE PRESERVATION OF A BRITISH BUILT WAGON-LITS CAR
MCW, BRC&W and Leeds Forge were major suppliers of cars to the Compagnie Internationale des Wagon-Lits et des Grands Express Européens. There are four Wagon-Lits cars preserved in Britain, but none of these are British built. At present there are a number of British built Wagon-Lits cars in Europe looking for a good home. Details are to be found in the CIWL Preservation List published by Pullman Car Services - Archive, email pullmancarservices@yahoo.co.uk.
The most important of these to preserve here would be a Leeds Forge Car because they were of a landmark design in the development of steel coach structures.
CIWL cars survive in various states from the following UK built batches.
| | | | |
| --- | --- | --- | --- |
| Car No | Make | Car No | Make |
| 1263-1296 | Metro | 3466-3495 | Metro |
| 2641-2674 | Leeds | 4001-4015 | Birmingham |
| 2852-2881 | Birmingham | 4016-4030 | Metro |
| 3361-3380 | Metro | 4066-4080 | Leeds |
| 3391-3405 | Metro | 4091-4110 | Birmingham |
| 3416-3455 | Birmingham | 4111-4130 | Metro |
NOTE that the owners of CIWL are disposing of the remaining rail assets. There was an auction of memorabilia by Christie's on 27 September in Paris viewing on 23, 24 and 25 September 2011. See Christies calendar.
---
THE STUDY OF BRITISH MILITARY RAILWAYS OVERSEAS
The use by the British of railways to transport and supply the army in the field is a much neglected subject. The earliest proposal for a British military railway was probably that which was contained in Wellington's memorandum of 1819 on the defence of Canada. Actual railways have been used extensively by the British Army overseas from the Crimea, where the railway was decisive in the siege of Sevastapol, until post-war Germany, see list below. However, there are only a few books on a few specific railways and no general history, other than what can be gleaned from the Royal Engineers Corps History, which is more concerned with organisational than technical matters.
With the demise of the Army Transport Museum at Beverley, there is no focus for research in this field. The only specialist group is the World War 2 Railway Study Group, which is small and its members are largely interested in the period from the late 1930ís to the 1950ís. The Royal Engineers Museum and Library at Chatham have some railway material.
Julian Rainbow has offered to coordinate research in this field, which we define as the construction and/or operation of railways for the field army either by the Royal Engineers or contractors under army supervision in overseas theatres of operations. This research will include the contribution of Dominion and Colonial Forces where appropriate.
The following railways are known to have been built and/or operated by the Sappers or contractors working under military control:-
A short railway in Canada from a quarry to the site of a canal lock being built by the Sappers in c. 1829.
Crimean Railway built by Peto, Brassey and Betts in 1855 and operated by the Land Transport Corps.
Abyssinian Railway built by the Sappers in 1867-68.
Operation of Egyptian Railways by the Sappers in 1882.
Construction and operation of the 18" gauge line at Suakin in 1884-5.
The construction of the Suakin-Berber Railway in 1885, effectively by the Sappers.
The extension of the Sudan Railway in 1885 in support of the Gordon Relief Expedition.
The construction of the Bolan Pass Railway to support the 2nd Afghan War
The rehabilitation of the Sudan Railway in 1896 and subsequent building of the Desert Railway from Wadi Halfa during the re-occupation of the Sudan 1896-99. The subsequent operation of the Sudan Railway by the Sappers until their withdrawal in 1926.
Operations in support of the Field Army during the Boer War 1899-1902
Operating the Chinese Railway during the Boxer Uprising.
Shan Hai Kuan Toy Railway 1900 to c. WW2.
Construction and operation of both standard and narrow gauge lines in France and Belgium in 1914-19.
Operation of railways in support of BAOR 1919-29.
Construction and operation of railways across Sinai and into Palestine during Allenby's advance against the Turks in 1917-18, in the Balkans and on the Italian front in WW1.
Operation of railways in South West Africa in WW1.
Operation of railways in Kenya and Tanganyika during the campaign against General von Lettow-Vorbeck in WW1.
Railway operation in the Caucasus and on the Trans-Siberian Railway in 1919.
Survey and construction of the Khyber Railway 1919-26 following the Third Afghan War.
Operations of railways in support of the field armies in most theatres in World War 2.
Detmold Military Railway
Railway operations in support of BAOR post WW2.
Many Sapper officers who were posted to India, in particular, spent their entire careers in the Public Works Department and worked on railways. Many of these men rose to high rank and became Inspecting Officers of Railways or Agents for the various Indian Railways. Other Sapper officers spent much of their career involved in military railway operations and subsequently rose to high rank. These men are little known and a study of their careers is worthwhile.
---
AFRICAN ROLLING STOCK RESEARCH
Sue Lawrence was undertaking a massive project to document the details and history of African rolling stock while the necessary information is still available. For each class of wagon or coach she was preparing a set of diagrams showing the main dimensions and a history of build dates, fleet numbers, withdrawal dates, modifications and rebuilds. Mostly the diagrams are coloured and show all of the different liveries carried by members of the class. Rhodesia Railways stock is the first subject of research, but Sue had started on some other railways. She was always interested to hear from anybody who has drawings, diagram books etc., which will assist her research. However, we have lost contact with here and, as her health was not good, we must presume that she has died.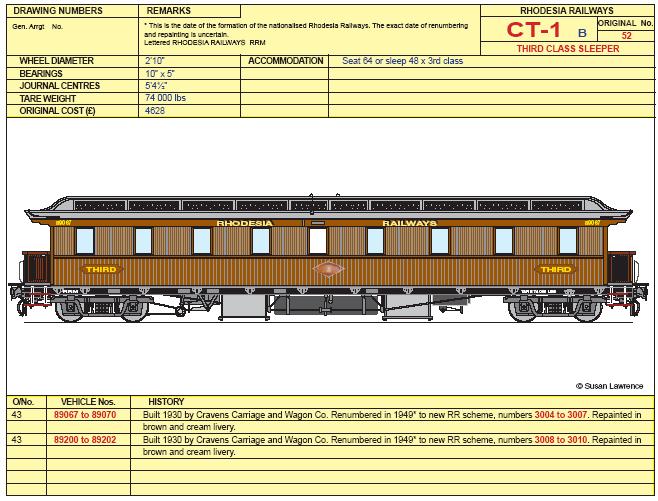 A (low resolution) sample of Sue Lawrence's drawings. This is one of a set of four showing later liveries and internal layout of this type of coach
It has been agreed with Sue Lawrence that BORHT will become the custodian of this work and will publish it on CD's. We are about to review what is available to publish a CD.
---
RAILWAY UNIFORM BUTTONS
Britain used to export many things and these included buttons for uniforms. We have seen buttons made for SAR by Firmin of London from 1916 to 1925 and by Smith and Wright Ltd of Birmingham from 1926 to 1961 (the latter type has a monogram of the letters SARS) (dates as given by dealer and not yet verified) and also for the Burma Railway by Buttons Ltd of Birmingham. Is anybody researching the export of railway buttons?
---
THE COMBINED RAILWAY SOCIETIES' LIBRARY
This project was inspired by the Combined Engineering Societies' Library in New York and by the problem of adequate space for our library and archive collection. Why not have a combined railway societies library, probably in the southeast, somewhere were access is good? It is being developed by Professor Paddy Farrell within the context of a general review of a future home for BORHT and its activities, as we have outgrown the expensive accomodation which we occupy in Greenwich.
The general idea is that there is a potential saving of scale if a number of societies were to join together to acquire a library building. Collections would be kept separate (unlike New York), but share overheads such as staff and copying equipment. We are aware that there are a number of railway societies in the London area without adequate facilities for their libraries and archive storage. Such an arrangement would benefit researchers as they would have the resources of several collections available at one location. The details remain to be worked out.
Anybody and/or society interested in developing this idea should email Prof Farrell at paddy.farrell@virgin.net
---
---
A STORY OF BRITISH EXPORT ACHIEVEMENT
| | |
| --- | --- |
| Registered Charity No 290944 | Company Limited by Guarantee No 1862659 |